Previous Events
Thank You for making the 2017 Thanks A Million Gala successful!
The Thanks Mom & DadFund® Board of Trustees appreciates our sponsors, attendees, donors, and volunteers for making the 2017 Thanks A Million Gala and Silent auction one of our biggest and best! State Senator Renee Unterman was honored for her lifelong work on behalf of Georgia's seniors.
Photos from the Gala are also included in the links below. Plans are already underway for our celebration of seniors in the fall of 2018.
2017 Gala photos folder 1
2017 Gala photos folder 2
2017 Gala photos folder 3
November 2016
"Thanks A Million" Gala honoring The Honorable Sam Massell
Thanks to the support of our sponsors, donors, attendees and volunteers, this year's Gala was our most successful yet!  Held at the Atlanta Marriott Marquis hotel, the evening was extra special with our guest emcees Jocelyn Dorsey of WSB-TV and Michael Kelly of "House of Cards." We raised over $100,000 to support the work of Thanks Mom & Dad Fund and our grantees.
View photos from the 2016 event here
Feb. 2016    Great fun at the 2015-16 Grant Awards Reception at Nelson Mullins.
Meet the 2015-16 Grantees – The Center for the Visually Impaired, Clarkston Community Center, Clifton Sanctuary Ministries, Decatur Cooperative Ministry, Golden Harvest Food Bank of Augusta, Senior Citizens Council of Greater Augusta, Senior Services North Fulton.  Congrats to all!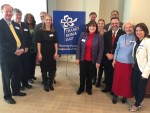 Trustees at the Grant Awards Reception
                                   ∞
NOV. 12, 2015 – The annual Thanks A Million Celebration at the beautiful Sheraton Atlanta was a great success! Guest of Honor, Laura Turner Seydel and Emcees Jocelyn Dorsey-WSB-TV, and House of Cards' Michael Kelly, aka Doug Stamper, all celebrated their heroes.
Winners at the fabulous Silent auction took home many one of a kind  items – Peridot Pendant from Jewelry Artisans,  Jekyll Brewing Company  tasting & Cask Creating experience, Round of Golf at the Legends- Chateau Elan, I-Pads, Scripts autographed by entire casts of  Modern Family and House of Cards posters, Photographic Safari at Zulu Nyala in South Africa, tickets to Alliance, Botanical Gardens, and the Fabulous Fox,  JR Revelry Bourbon and Smooth Ambler Spirits, custom framing by Briarcliff Framing and Larson-Juhl, Leather Clutch by MooMoo Designs, autographed art by Mike Luckovich and photographic artist Susan Michal, art from Earl & the Girl and artist Joseph Carbone and much, much more!
AND THANKS AGAIN LAURA TURNER SEYDEL AND ALL THE GREAT SPONSORS WHO MADE IT POSSIBLE!
2014 Thanks A Million Celebration 11-14-14 – Sponsors and photos with more to come!
2014 Thanks Mom & Dad Fund Grants Reception –introduced 7 new Thanks Mom & Dad Fund Grantees! AND had the most fabulous view at the offices of Nelson Mullins Riley & Scarborough LLP.
Past Honorees at the Annual Thanks Mom & Dad Galas:
2013  Guests of Honor, MLB Hall of Fame Pitcher, Phil "Knucksie" Niekro honoring his Parents Phil & Henrietta (Ivy) Niekro and Sunny K. Park, General Building Maintenance, honoring his Mother, Pyoungnim Park.
2012   Jonathan Babineaux, Atlanta Falcons, Honoring his Mother, Barbara Babineaux
2008  The Honorable Johnny Isakson, U.S. Senator, Georgia
2007 The Honorable Shirley Franklin, Former Mayor, City of Atlanta
2007 Poster Honorees forming Perennial Exhibition:  Willie Ruth Bell Glass, Sen. Johnny Isakson, Dot Meder, Pyoungnim Park, Herman & Otelia Russell, Nathaniel Goldston, Jr., and Kathleen O'Donnell Walton
2006 Evern Cooper Epps, UPS Foundation, retired, honoring her Mother Vivian
2005 Keith Brooking and Chris Mohr, Atlanta Falcons
2004  Jocelyn Dorsey, WSB-TV, Channel 2, Honoring Robert & Helena Dorsey
2003 Michael Thurmond, former Commissioner,  Georgia Department of Labor, Celebrating a Birthday and Remembering Sidney & Vanilla Thurmond
March 1, 2012 Grantee Awards Reception  The Board of Trustees mixed and mingled with current and former grantees, applicants and supporters of The Thanks Mom & Dad Fund®!  Below are some photos from the March 1st Grants reception where the 2011-12 Grantees were announced!