Success Stories
Alchemy Sky Foundation partners with music therapy center 
March 6, 2018
Alchemy Sky Foundation announces Choral Program to help improve quality of life for Older Adults living with Parkinson's Disease
Atlanta, Georgia – February 9, 2018 –  The Alchemy Sky Foundation is pleased to announce the development of a therapeutic choral program to help older adults living with Parkinson's Disease improve their quality of life.
Approximately one million Americans have Parkinson's disease (PD), more than the combined number of people with multiple sclerosis and ALS. About 60,000 Americans are diagnosed with PD each year.1 In addition to other symptoms, people living with Parkinson's often experience difficulty in swallowing which has a negative impact on their quality of life. Research has shown that singing can help strengthen the muscles that control swallowing and respiratory function as well as improving clinical measures in mood, stress and depression.2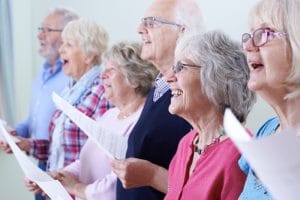 The Alchemy Sky Foundation will work with the George Center, a leading music therapy group based in Georgia, to facilitate the program which will begin this spring in Atlanta. This project has been made possible through the generous support of the Thanks Mom & Dad Fund of Atlanta.
"We are excited to positively impact the lives of older adults living with Parkinson's Disease through this research-backed, fun-filled program.  We are deeply grateful for the support from the Thanks Mom & Dad Fund" said Jaye Budd, Executive Director of the Alchemy Sky Foundation. 
"Many individuals with Parkinson's have problems with initiation and consecutive movement. They also have problems with slowness of movement, or bradykinesia. Patients report that participation in singing activities and music with a strong rhythm has improved their gait, breath support, motor control, and ability to perform consecutive tasks", noted Jamie George, who is a licensed and board-certified music therapist.

About Alchemy Sky Foundation
The Alchemy Sky Foundation brings the healing power of music to those who need it.  ASF partners with organizations in the community as well as a broad network of music and health professionals to create needs-based programs for its clients.  The Alchemy Sky Foundation is a 501(c)(3) non-profit organization.
About Thanks Mom & Dad Fund®
The Thanks Mom & Dad Fund is a charity created to honor parents, grandparents and mentors by supporting programs and services for the aging population. It works to improve the quality of life for older adults and honors the contributions of older adults one generation to another by raising funds and making grants to agencies serving them. 
About the George Center
From one-on-one therapy to full service music therapy programs for healthcare and educational facilities, The George Center has got Atlanta covered. With 3 convenient locations in Roswell, Cumming, and Norcross we are relentlessly, tenaciously, and passionately pursuing our mission to improve access to music therapy right here in Atlanta. Music therapists use music-based interventions to address individualized goals for their clients. 
About Renaissance on Peachtree, An Arbor Company Community
Renaissance on Peachtree is among the most elegant and trusted senior living residences in the Buckhead area of Atlanta. In a time where new, yet unimaginative, senior living communities seem to be popping up everywhere, Renaissance is a fresh take. As an Arbor Company Community, they're doing away with the stereotypical notions of retirement living. The Arbor Company is well known for their outstanding amenities and programs, but what truly sets them apart are the deep connections and culture they create within their communities.
2 E.L. Stegemoller, PhD. Therapeutic singing as an early intervention for swallowing in persons with Parkinson's disease. Complementary Therapies in Medicine, Volume 31, April 2017, Pages 127-133.
For further information, please contact:
Jaye Budd
The Alchemy Sky Foundation
Phone: 404-228-7079
jaye.budd@alchemysky.org