News
March 2021 – Thanks Mom & Dad Fund Receives $60,000 CVS Health Community Grant
Grant is part of CVS Health's commitment to increasing access to quality health care  Atlanta-based Thanks Mom & Dad Fund announced today that it has received a $60,000 grant from CVS Health, as part of the company's commitment to building healthier communities. The support from CVS Health will help the state-wide nonprofit test innovative solutions to social isolation among older adults exacerbated by the COVID-19 Pandemic.   Read full press release to see list of grantees.
April 2020 – New Partners Fighting Spread of COVID-19 Among Elderly
What do a charity, a State Senator, an insurance company and medical students have in common?  The answer is fighting the spread of COVID-19 among the elderly.   New partnerships are doing that in Georgia.  The Thanks Mom & Dad Fund, State Senator P.K. Martin, and medical students from Philadelphia College of Osteopathic Medicine have joined forces to help Georgia's seniors. Read more here.
Maureen Kelly named Jane Kennedy Excellence in Aging recipient for 2019
(Atlanta, September 12, 2019) Maureen Kelly, a Lawrenceville resident and founder of Thanks Mom & Dad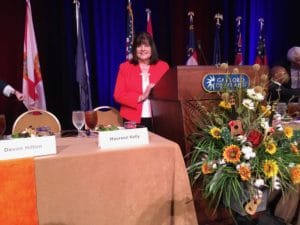 Fund, received a top honor from Southeast Association of Area Agencies on Aging. "The Jane Kennedy Award is the most prestigious and one of the most long-standing awards in the History of the Southeast Association of Area Agencies on Aging" said Anne Wildman, President of the association.
"For 42 years, this honor has been awarded to a leader in the network who has made outstanding contributions that promote the safety, welfare, and well-being of older persons in the Southeast region. Maureen's contributions to the network are remarkable, and we celebrate her, as she is most deserving of this prestigious award!"
Kelly founded Thanks Mom & Dad Fund to address the growing funding gap in services for older adults across the state. The organization partners with Georgia's Area Agencies on Aging to provide funding to senior centers across Georgia.
The Georgia Association of Area Agencies on Aging (G4A) nominated Kelly for this award. "Maureen has been a fierce advocate and fundraiser for aging services across Georgia," said Julie Hall, President of G4A. "We are proud that her hard work was recognized in the region."
DHS Commissioner Robyn Crittenden is One on One with Jocelyn Dorsey
Department of Human Services Commissioner Robyn Crittenden joins WSB-TV's Jocelyn Dorsey to discuss the Senior Center Innovation grants from this past year.

---
Thanks Mom & Dad Fund® grants teach drumming and belly dancing for fitness and fun!

During Older American's Month in May, WSBTV produced two features on metro Atlanta projects recently funded by a partnership between the GA Department of Human Services Division on Aging and Thanks Mom & Dad Fund®. The grant required centers to offer new and innovative programs for seniors. The Center for Pan Asian Community Services chose a multi-generational drumming program that has taught new skills to students and elders, and given them a chance to perform together.  New Beginnings Senior Center in Fulton County offers line dancing to seniors, but the opportunity to do something innovative led them to add a belly dancing class for center participants.
---
WJBF in Augusta coverages Thanks Mom & Dad Fund® grants in Central Savannah River Area
Thanks Mom & Dad Fund® awarded grants to four senior centers in the Augusta area earlier this year for innovation-focused programs and services. In late May Thanks Mom & Dad Fund® Executive Director Katherine Cummings, and Jackie Harris with the Area Agency on Aging in the Augusta area, were interviewed for a feature segment on WJBF's weekly mid-day program
Jennie
. The two women joined host Jennie Montgomery to discuss Older American's Month and how the grant funding in the Augusta area is making a positive difference in the lives of seniors.
---
February, 2018: Thanks Mom & Dad Fund® Announces New Grants

More than 60 programs and services benefitting seniors awarded funds
(Atlanta, February 14, 2018) — The Thanks Mom & Dad Fund announced its latest round of grants today to fill service gaps and provide emergency services for vulnerable older Georgians. At a reception for donors, grantees and trustees at the offices of Nelson Mullins Riley & Scarborough, the 2018 grants were awarded to 61 nonprofit organizations serving seniors across the state.  Among services provided are home-delivered meals, music therapy, outdoor exercise programs, and transportation.Thanks Mom & Dad Fund® issued grants to Alchemy Sky Foundation (Atlanta), Atlanta Community Food Bank (Atlanta), Friends of Disabled Adults and Children (Georgia), I-Care (Decatur), and Georgia Radio Reading Services (Georgia).  The additional 56 grants were made in partnership with the Georgia Department of Human Services to promote program innovation and improvements at local senior centers throughout Georgia. (see list below)"The Thanks Mom & Dad Fund® is pleased to make grants addressing significant unmet needs which make a tremendous difference in the lives of older adults and caregivers," said Maureen Kelly, President of the Fund®.  "We remain committed to identifying and filling service gaps across the state."More than 100 people attended the awards presentation and reception for this year's recipients.  Prior to the reception, over 75 people attended a workshop including best practices for writing grant applications with presentations from the Community Foundation for Greater Atlanta and the Thanks Mom & Dad Fund®.
About the Thanks Mom & Dad Fund
The Thanks Mom & Dad Fund® is a 501(c)(3) organization whose mission is to honor parents, grandparents and mentors by supporting programs and services for older adults.Through ongoing fundraising and grant-making, the fund seeks to engage the public in support for such programs through greater awareness and promotion of the vital services provided by agencies serving older adults.  If you are interested in supporting the organization, please contact 404-410-6311 or visit
www.thanksmomanddadfund.org
.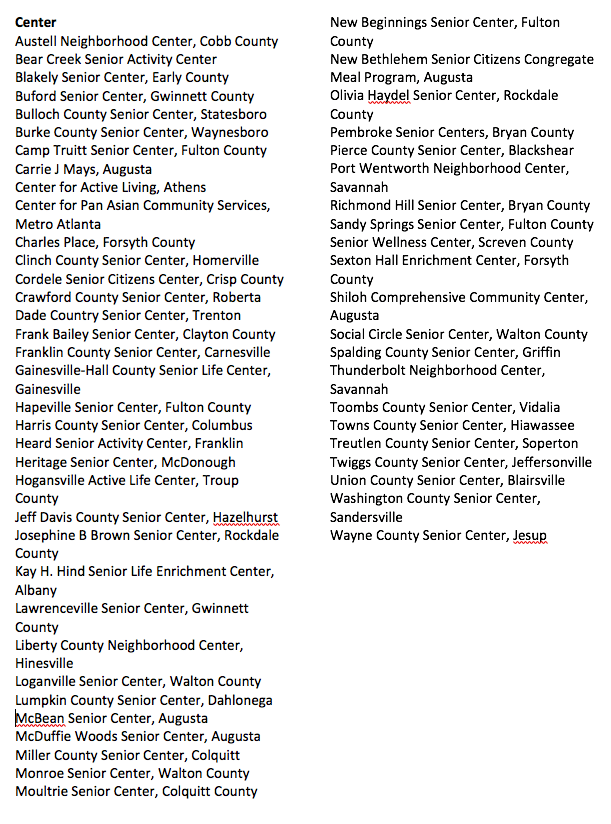 ---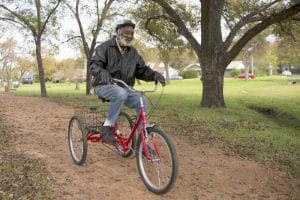 Winter Holidays Newsletter
Find out how your support made a record number Thanks Mom & Dad Fund® grants possible in 2017! 
---
Senator Unterman honored during Thanks A Million Gala in November
Georgia State Senator Renee Unterman was honored for her support of seniors during the Thanks A Million Gala on Thursday, November 9th at the Marriott Marquis in downtownAtlanta. The Gala included a reception, silent auction, and dinner, with the Masters of Ceremony Jocelyn Dorsey of WSB-TV, and Michael Kelly, who portrays Chief of Staff Doug Stamper in the series House of Cards.
Proceeds from the Gala support programming and services for seniors and their caregivers.
President Maureen Kelly is interviewed on "Better Living" NewsTalk1160 on April 16, 2017.  Click here to listen to the interview.
---
President Maureen Kelly Appointed to Georgia Council on Aging
On June 17, 2016 Georgia Governor Nathan Deal announced the appointment of Thanks Mom & Dad Fund's President Maureen Kelly to the Georgia Council on Aging.  Congratulations Maureen!  Information from the official press release is below:
Maureen Kelly, Georgia Council on Aging
Kelly recently retired as the business and community liaison for the Atlanta Regional Commission's Area Agency on Aging. She is the president of the Thanks Mom & Dad Fund, an organization that supports programs and services for older adults. Kelly is a former resident of the Georgia Gerontology Society and the Georgia Older Worker Network. She earned a bachelor's degree in Social Work from Georgia State University and a master's degree in Social Work from the University of Georgia. Kelly and her husband, Mike, have four children and eight grandchildren. They reside in Lawrenceville.