Thanks A Million Gala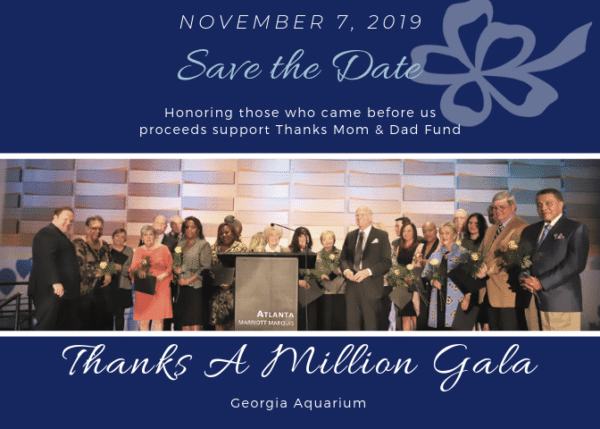 Save the date for the annual Thanks A Million Gala to be held on November 7, 2019 at the Georgia Aquarium. This one of a kind event honors those who came before us while supporting programs and services for older adults and caregivers.
Check back regularly for website updates including our signature silent auction and ticket sales and be sure to sign up for our newsletter to stay up to date.
Dedication Tables
Do you have a mentor, leader, or someone you would like to honor? Dedication tables are a unique and special way to honor that person. With a dedication table, a guest of honor (or two!) and their guests will spend the evening celebrating and saying "thanks" while supporting an important cause. You can learn more about Dedication Tables here or please contact David Coffman at 404-410-6311 or david@thanksmomanddadfund.org
Sponsorships
Corporate sponsorship opportunities are available. Please view our Sponsorship Packet here or contact David Coffman at 404-410-6311 or david@thanksmomanddadfund.org
Past Galas
Guests of Honor from the Previous Thanks A Million Galas
15th Anniversary Thanks A Million Gala, November 2018
2017 Thanks A Million Gala with Guest of Honor Senator Renee Unterman
2016 Thanks A Million Gala with Honoree Sam Massell
2015 Thanks A Million Gala with Guest of Honor Laura Turner Seydel
2014 Thanks A Million Gala with Guest of Honor Fredi Gonzalez