Grant Awards Reception and Workshop
Each year Thanks Mom & Dad Fund awards grants to organizations serving older adults. These grants fill growing gaps in services for seniors. However, funding is not the only way Thanks Mom & Dad Fund works to strengthen the aging network. Along with the Grant Award Reception all grantees and potential grantees are invited to attend a skill building workshop. In the past these workshops have included grant writing, reporting and outcome measurement, and other workshops to help build the capacity of staff working to serve older adults.
2019 Grant Awards Reception & Workshop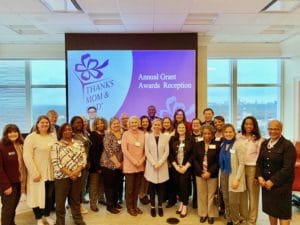 At the annual Grant Awards Reception in February, the 2018-19 grantees were announced after a dynamic workshop presented on reporting outcomes. Our commitment to organizations is to provide not only funding but other resources and opportunities to strengthen the network of agencies serving older adults.
This year the workshop was presented by Kristi Fuller with the Georgia Health Policy Center. Attendees learned more about reporting outcomes and telling their story.
With the support of our generous sponsors and donors Thanks Mom & Dad Fund distributed 64 grants! Working together we are able to help fill in the funding gaps for services on which older adults and caregivers rely. Read the full press release and announcement here.
2018 Grantee Awards Reception & Workshop
The Thanks Mom & Dad Fund® Trustees hosts over 100 attendees for Grants Awards Reception and Workshop
We like to show our supporters where the money goes!
Thanks Mom & Dad Fund® Trustees hosted the 2018 Grant Awards Reception and Workshop on Wednesday, February 14 overlooking the Atlanta skyline from Nelson Mullins Riley & Scarborough at Atlantic Station in Atlanta.Over 100 people attended to learn and celebrate more than 60 grant recipients.
The workshop included Grant writing 101 by Community Foundation for Greater Atlanta staff members Maria Najilis and Lauren Jeong. A speed networking exercise was held with participants eagerly sharing information about their work and exchanging business cards. Information about grant recipients is here. 

There are more photos on FaceBook.
2016 Grant Awards Reception & Workshop
Great fun at the 2015-16 Grant Awards Reception at Nelson Mullins.
Meet the 2015-16 Grantees – The Center for the Visually Impaired, Clarkston Community Center, Clifton Sanctuary Ministries, Decatur Cooperative Ministry, Golden Harvest Food Bank of Augusta, Senior Citizens Council of Greater Augusta, Senior Services North Fulton.  Congrats to all!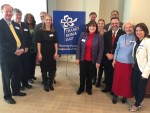 Trustees at the Grant Awards Reception