Direct Care Workforce Solutions Forum
Direct Care Workforce Solutions Forum
July 22nd– 9:30 -11:30 AM
Ritz-Carlton Reynolds, Lake Oconee (prior to Georgia Gerontology Society Conference Opening Session)
There is a crisis facing the direct care workforce. These critical jobs are the frontline in caring for older Georgians. As more and more Americans age, the need for qualified caregivers continues to grow.
Join funders, legislators, providers, and job trainers for this solutions-oriented forum to position Georgia to become a leader by strengthening the direct care workforce pipeline.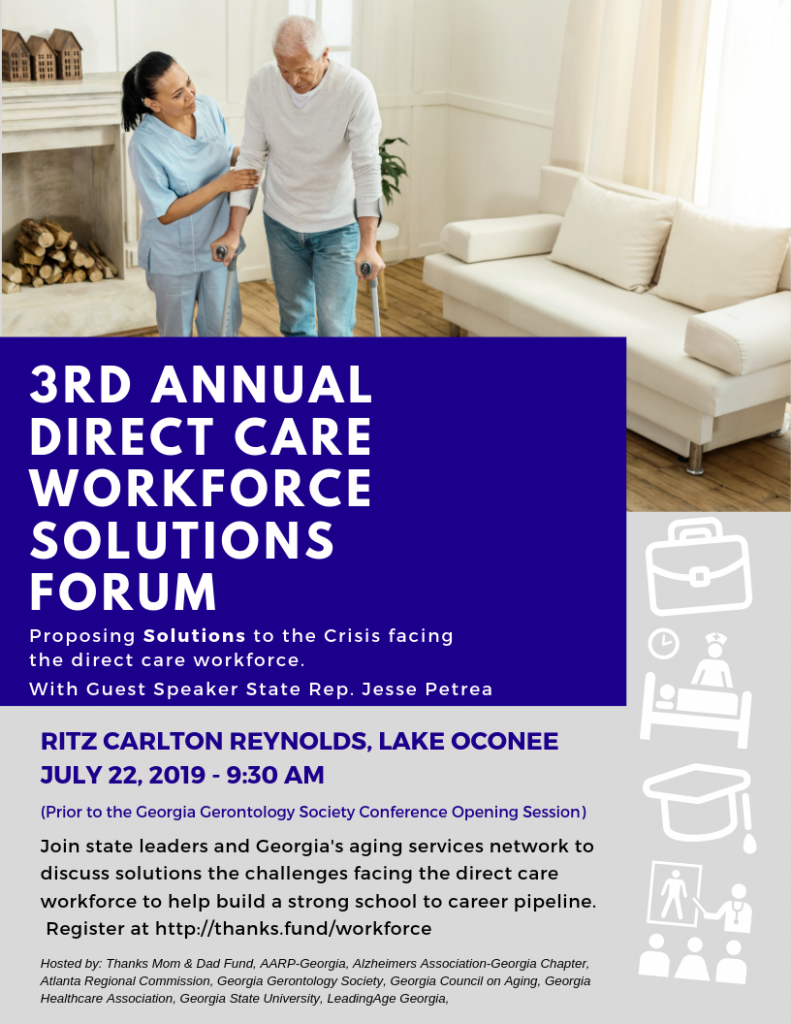 You are invited to join the conversation as providers in home and community-based agencies, nursing home and personal care homes administration, staff, students, GGS members, and others interested in learning more about strategies to strengthen the pipeline of qualified workers in long-term care.
Speakers include leaders from state and local government, funders, and local companies.
State Representative Jesse Petrea
Caylee Noggle, Georgia Student Finance Commission
Catherine Ivey, Georgia Department of Community Health
Dr. Jennifer Craft Morgan, Gerontology Institute at Georgia State University
John Helton, Atlanta CareerRise
Pam Clayton, Georgia Health Care Association
Mary Helton, A.G. Rhodes Health & Rehab
Sue Burgess, Atlanta Regional Commission Area Agency on Aging
Hosted by Thanks Mom & Dad Fund, in partnership with Georgia Gerontology Society, AARP-Georgia, Alzheimer's Association-Georgia Chapter, Atlanta Regional Commission AAA, Georgia Council on Aging, Georgia Health Care Association, Gerontology Institute at Georgia State University, and LeadingAge Georgia
Learn more about the Georgia Gerontology Society Annual Conference
See the full conference program.
The 64th Annual GGS Conference will be held at the beautiful Ritz-Carlton Reynolds at Lake Oconee. Along 30 acres of Lake Oconee shoreline, city-dwellers trade traffic for nature's tranquility. At this luxury resort in Georgia, guests make themselves at home in lakeside rooms and suites, dine beneath a star-filled sky and unplug with Southern-inspired spa therapies or a day of fishing. Here, moments are enjoyed and memories made.
The conference room block rate for attendees is $159 (plus applicable state and local taxes and the state hotel/motel fee) per night. Attendees have access to the conference discounted rates from Sunday, July 21st through Tuesday, July 23rd (check-out on July 24th). GGS is happy to extend our rate to attendees of the 3rd Annual Direct Care Workforce Solutions Forum. Overnight Parking with Complementary Valet Services has been reduced to $14.00 per vehicle, per room, per night (exclusive of 7% state tax). Daily parking has been reduced to $10.00 per car, per day (exclusive of 7% state tax). You will need to reference the GGS Annual Conference to get the discounted rate. In order to secure the room block guarantee rate, reservations must be made by June 21, 2019. To reserve your room, click here. Attendees are still able to secure our room rate after our block is full, as long as the property still has standard rooms available. If the online reservation form shows that there are no rooms available in our block, please call 706-467-0600 and reference the GGS Annual Conference. If you have any problems, please email the GGS Executive Director at administrator@georgiagerontologysociety.org. Upon check-in, you will be given the option to purchase their Resort Fee at $45.00 per room per night, plus applicable state and local taxes. Please click here to see what is included as well as a la carte pricing. The Ritz-Carlton Reynolds also offers five championship golf courses, Ritz Kids programming, fishing and boating, tennis and more. Please visit their website to learn more about all the wonderful services they offer to enhance your stay.