Social Isolation Forum
Social Isolation: As dangerous as smoking 15 cigarettes per day!
A CVS Health grant made it possible to test interventions to reduce social isolation and loneliness. Panelists representing the nine (9) sites shared information about their programs at the Social Isolation Forum presented by Thanks Mom & Dad Fund and CVS Health.
Emily Allen from AARP Foundation reviewed the pros and cons of various assessment tools and the seriousness of social isolation stating that isolation is as harmful to health as smoking 15 cigarettes per day! Cindy Follmer, Aetna President, joined the group to provide information about the CVS Health Zone Initiatives launched in five locations across the U.S.  Thanks Mom & Dad Fund, with partners at the Atlanta Regional Commission Area Agency on Aging, is pleased to be a partner in the Atlanta Health Zone Initiative in the 30318 zip code.
The nine sites that tested interventions included three (3) Senior Centers – Forsyth County Senior Services, SOWEGA Council on Aging and Troup Council on Aging; two (2) adult day health centers – Mercy Care Rome and Peachtree Christian Health, two (2) residential settings – SageNavigator, Inc. and National Church Residences Foundation; the John W. Looper Jr. Speech and Hearing Clinic and the University of North Georgia Research Foundation.
View the Social Isolation Forum's program information (PDF) by clicking the image below.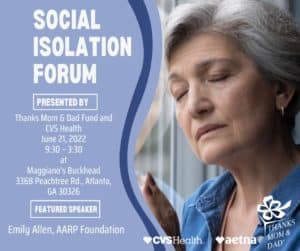 Photos from the event.